the good loom mela - hyderabad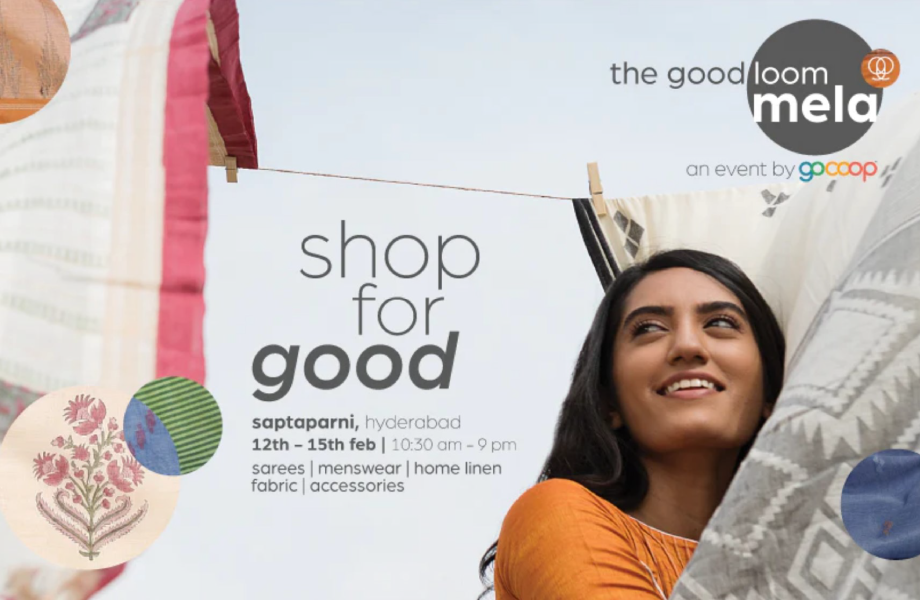 the good loom is a brand by GoCoop, India's first national award winning online marketplace for weavers and artisans. With a mission to enable sustainable livelihoods for artisans by disintermediating the supply chain, GoCoop in the last 7 years has worked with over 350 co-operatives and master weavers from 56 handloom clusters across India and marketed their products to a global audience. GoCoop is a certified member of the fair trade forum India.
the good loom is a movement that helps promote a socially conscious lifestyle. focused on developing refreshingly simple apparel, the product ranges are curated and designed to celebrate the signature techniques inherent in each Indian craft, in an everyday context.
a brand for those who love the purity of natural handwoven fabrics and the distinct handloom weaves of India. It's also for those who are conscious about the choices they make. Products by the good loom are meant to feel good on you, and make you feel good from within.
The brand identifies that this movement cannot be taken up single-handedly. Believing in the concept of collaboration, the good loom brings forth an exhibition, - the brand's inclusive step to make sustainable choices available to consumers across demographics. This is by providing a platform for artisan clusters and sustainable brands/ designers across the country to sell directly to consumers.
We are excited to invite you to our first collaborative exhibition, the good loom mela to be held at Saptaparni, Road No: 8, Banjara Hills, Hyderabad, from 12th-15th February 2020.
Join us in welcoming a new era of good practices and slow fashion.
---